Food And Blogging – A Seamless Connection
Blogging is a journal created online using tools provided by various web technology companies like WordPress, Google and more. It is a simple yet powerful way to create websites that can hold text, images and videos. Anybody who loves to reach out to the mass and have content can create blogs. Food blogging is an online journal whose content is inspired by food. The person who has created and is maintaining the food blog is called a food blogger. A few years back gourmets and beginners will have to depend on heavy cookbooks to fetch new recipes or to learn. Such books may not be readily accessible to many.
Food blogs are an innovative way to present recipes. Anybody who is passionate about cooking and wishes to share it with the world can create food blogs. You really need not possess immense technical skills to be a blogger. Content is important. Food blogs comprises any recipe with step by step instructions and photographs taken by the blogger. A food blog can also be reviews of food, description of different food types, adventures of foodies, healthy eating habits or food photography.
Bloggers can cook and post their recipes and the content focus mostly on their cooking experience with eye candy photographs. Restaurant reviews are useful tips which people count on before trying out a new place to dine. Reviews focus on food quality, service, price and ambience. The reviews will be a detailed hands on experience that can either lead to the rise or fall of the restaurant. Food blogs can be very specific and focus on niche subjects like vegan blogs, sugar free desserts, gluten free blogs and more. Recipe blogs are more common and popular as it provides an array of comprehensive and wide range of recipes. Some interesting food blogs to follow are discussed here.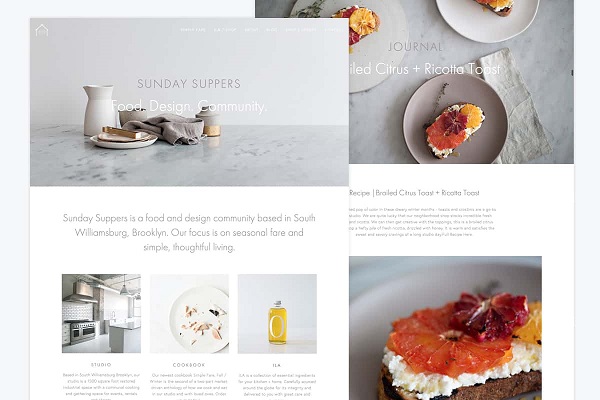 Top Food Blogs To Follow
There are many food blogs and it is a tough job to choose the best. Each blog will have followers who would have liked and shared content and this is one measure to decide the popularity of the blog. Love & Lemons, a food blog since 2011, is developed and passionately maintained by Jeanine Donofrio & Jack Mathews. This award winning blog has recipes that combine flavour with perfectly captured photos. Recipe Girl has been around since 2006. It was started by Lori Lange and has over 3000 recipes. Everything from breakfast to dinner is covered. The popular blog is featured in top food websites.
Add A Pinch is a food blog that has contemporary lifestyle and travel sections to it. It was started by Robyn Stone who is passionate about southern recipes. I Am A Food Blog founded by Stephanie Le is an online journal that has an impressive collection of food photography and writing. The blog has recipes with Asian flavour. The team has won the editor's choice and the blog of the year award. It also discusses travel and new cooking gadgets. Serious Eats is a blog that has a different approach. Technique and art of cooking is their way of food blogging.
Sweet As Honey is a food blog dedicated to promoting baking without refined sugar and carbon with simple carbohydrates. Carine Claudepierre, the author is also a food photographer and filmmaker. Her goal is to spread healthy and delicious food. Pinch Of Yum started by Lindsay is using her blog to cook and share recipes. The instructions are easy to follow and use everyday ingredients. There are other resources including a meal planner. Cookie And Kate founded by chef Kathryne. She and her dog cookie form a twosome and they celebrate their foodie endeavours through the blog. Sprouted Kitchen authored by Sara and Hugh Forte is a great inspiration for people who love to have healthy food.
Top Food Blogs To Follow In Instagram
Instagram is also used as a tool to create short blogs with pictures. It has a huge array of food blogs. @feedyoursoull is an account with 300k followers and has all international and American comfort food. It is the most popular food blogger on Instagram. @julieskitchen started her blog and Instagram account after leaving her day job to pursue her passion for cooking. Her content explores color theory and the field of plants. @andrewscrivani has all the best meals New York city has to offer. Most of the recipes are American and Italian meal recipes. @cannellevanille is a food journal on different varieties of food the author has tried in different cities. This blog with millions of followers has also caught the attention of leading food personalities. @spoonforkbacon is a food and styling account which is a beautiful extension of their original recipes in the blog Spoon Fork Bacon. Simple and delicious looking recipes are a must try.
Know More About : What New Data Tells Us About Blog Advertising