Best Practices To Write Social Media Posts
Social media is an amazing world to be in. It offers a platform for entertainment, education and business. Every business is on social media. There is absolutely no business without a mail or a Facebook account. If used wisely, social media can help increase businesses. Appropriate social media posts can increase traffic to your web page, online store or company website. Increase likes, shares and comments can attract prospective customers. The way you write the post will affect the reach. There are various social media platforms that can help create the buzz you want. Facebook, Twitter, Instagram, LinkedIn and Pinterest are some of the popular medium through which you can create posts.
The question, 'How to write social media posts?' that works for you really depends on the kind of response you are looking for. It could be for personal reasons or pure business. The content and the writing is core. Always keep in mind that shorter posts do better than the longer ones. It is easier and you can present your thoughts clearly. Your writing should be original with real emotions, opinions and ideas. It should not be like a sales pitch which is overly promotional. The posts should be able to stand the test of times. Social media posts have a very short life span and you need to catch people's attention immediately.
Endless scrolling will only affect the reach. It can easily be missed out among various other things on social media. You need to try reposting it at a different time of the day with different hashtags, descriptions and titles. This will help create new buzz. Some of the best practices to create social media posts are discussed here.
Posts For Facebook, Twitter And Instagram
An engaging Facebook post can be tricky. You need to play around with different techniques until you find the ones that work best for your business. Facebook posts need not be short. You can aim at 80 to 120 words. Even if your post is completely textual look to add a visual in the form of graphic, photographs or videos. Keep the post positive and increase the excitement with an exclamation mark. Add hashtags to connect your post to a wider audience. On Facebook, use just one or two hashtags that can be a perfect marketing pitch.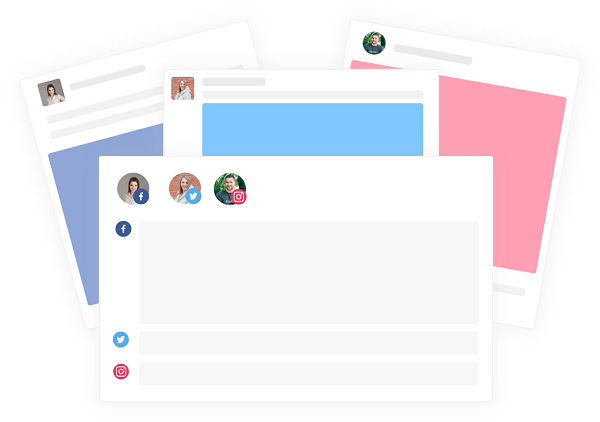 Twitter already has a length requirement that makes it really tough to get the post or tweet right. Twitter allows up to 140 characters and hence the tweet has to be short and to the point. Your tweet has to address one topic at a time. Maintain a length of 120 to 130 words so you can let people to retweet the post. Include links to blogs or websites and images to your tweet to make it more compelling. You can tag up to ten people on Twitter. Make use of it wisely. One or two hashtags can make it more catchier.
Instagram is all about photos, it is also about the caption of the photos that can make the post compelling. A good caption can do all the work for you. The length of the caption is never an issue but there is a character limit. Contextual description of the photo followed by a question will increase participation and more comments. Breakup your caption into shorter sentences and use emojis creatively. Instagram allows up to 30 hashtags for a single post so go wild but appropriately. Use relevant hashtags and emojis. Instagram supports light hearted content so keep your posts fun and interesting.
Posts For LinkedIn And Pinterest
LinkedIn is a great platform for business. You can use it to share business insights and latest news that are related to your industry. It is a platform for longer posts. You can post company events, new updates and personal opinions. Keep the write up engaging with links and images. Ask followers questions so you can get their comments. Keep the post well formatted like a blog. Include a title and subheadings. Organize ideas into short paragraphs to make the post uncluttered and readable. LinkedIn allows the use of 3 to 5 hashtags. Have them plugged in at the end so you can have a wider reach and participation.
Photos with the right description are the focus on Pinterest. Describe your pins in detail in about 150 to 300 words. Use relevant keywords in the description and information so you can make the user click. Don't use any slangs and acronyms in the description. Keep the formatting simple with correct grammar and punctuation. Sound authentic and never make it look like a sales pitch. Pinterest does not recommend the use of hashtags as it just does not jell well with the content.
Know More About : Top Ten Social Media Marketing Ideas