In recent years business blogs have become the most significant marketing tool for small and big businesses. It is said that it is possible to generate sales leads with the help of business blogs. The number of blogs and blog updates reaches millions every day. This makes you think about the need and importance of starting a business blog. Blogs can do wonders to your business when it is created and used in the right way. The following offers some useful tips on creating good business blogs and the importance of creating business blogs.
What Is A Blog?
Blogs are nothing but a site or a web page which can be considered as an online journal or an open forum. Blog means a weblog. Bloggers update their blogs regularly. Blog updates are usually short like including a precise blog entry or including a useful link in the blog etc. The readers of the blog also post their reactions or comment on the blog. You can find blogs on almost any topic in this universe. Blogs can be seen in business or individual websites. There are several public blogging sites that host blogs written by bloggers.
Benefits of Business Blogs
There are various types of blogs. Business blogs are written with a purpose, i.e. to increase sales leads and thereby to improve sales. There are several other potential benefits of business blogs.
Engage with Customers: Blogs are an effective platform where you get an opportunity to interact with your customers. Informal and direct communication with customers is possible with blogs. It is possible to talk about the positives of your products, strengths of your business team and their expertise. It helps people to get a clear understanding of your business.
Know Your Customers: Blogs are an interactive marketing tool. Thus it can be used to understand the interests and requirements of a customer. This worthy information can be used to come up with new products and innovative business ideas that attract customers.
Keeps Your Business Alive: Blogs are the right marketing tool that keeps your business active. It is used as a personal voice for your business, thereby promoting it.
Costs Less: Blogging does not cost you much. There are various blogging sites available that can post your blogs for free or for some nominal fee.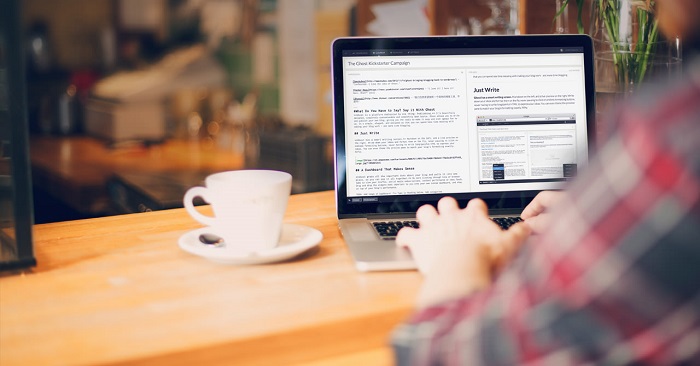 Tips to Create Effective Business Blogs
There are millions of business blogs popping every day on the internet. It is, of course, challenging to make your business blog stand out such that it impresses the readers. This is important to attract new customers and increase sales leads. Make sure that you create useful business blogs with the help of the following tips.
Know Your Business Goals And Policies: One must start a business blog with a basic understanding of the business goals. This would help to write blogs with an actual purpose for the business. The content of the business blogs must reflect the goals and policies of your business. If multiple bloggers write business blogs for your business, then you can come up with some rules on writing blogs. You can also appoint a blog editor who helps in checking the blogs for its tone, grammar etc. before it is posted.
Make it Relevant: This is very important when writing business blogs. You have to write blogs based on the current trends in the industry. For example, if you're running a real estate firm, then your blogs must be based on the current trend in purchasing and selling property. It must attract customers and talk to them like a friend.
Make It Informative: Business blogs must be helpful and useful for the readers. Keep your blogs simple, informative and engaging to your readers. This would make your readers recommend your blogs to others. Make sure to transform your blog as an excellent resource for your industry. This would, in turn, influence other bloggers and websites to link with your blog. This can make you rank better in the search engine results.
Update Your Blogs: Readers would be expecting fresh content from your blogs. So make sure that you offer new content at regular intervals. Updating your blogs often can help to gain devoted readership. You may lose your regular readers when you fail to update your blogs regularly.
Use Keywords: Your blogs must make use of specific keywords related to your business. This gives a higher chance for your blogs to be ranked at the top of the search engine results.
The above tips would help to create useful business blogs for promoting your business.
Know More About : Popular Entrepreneur Blogs And Its Benefits